LOADED WITH BENEFITS.
Keep your fleet moving smoothly with the Comdata Connect Card. Our prefunded card provides a simple way to access the fuel perks you want while staying in charge of your finances.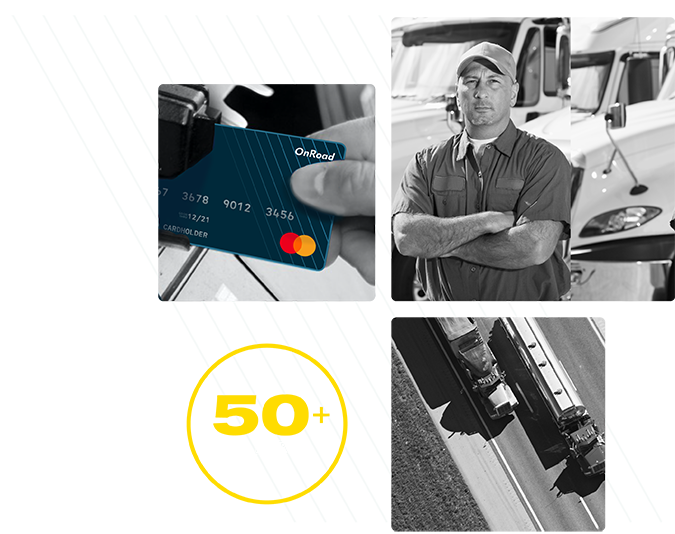 THE FUEL DISCOUNTS & BENEFITS YOU NEED, PREFUNDED BY YOU
With the Comdata Connect Card a small fleet won't have to jump through hoops to get the discounts that only a Comdata card can deliver. Prefund the account, pay less at the pump, and continue to earn any rewards from the bank account or credit card you use for funding.1 
Easy to access, easy to get started.
Fund the account on your terms, from your bank account or with a credit card.
$0 transaction fee for in-network locations, $3 transaction fee for out-of-network locations.2
Cash price plus up to an additional $.25 off per gallon at TA Petro, $.10 off per gallon at Pilot Flying J, and up to $.08 off per gallon at Love's, AMBEST, Speedway and 7-Eleven locations.3
On average, fleets can save $3,000 per truck annually using Comdata fuel solutions.4

Accepted at over 8,000 locations nationwide.

Savings up to 65% on tires and retreads at over 3,000 locations.

24/7 driver support and online account management.

Compliance services and other additional services.

The Comdata Connect Card is not available in Alaska, California, Hawaii, Nevada, Oklahoma and Washington D.C.
1 See the terms and conditions of your funding source for rewards eligibility.
2 Subject to an $8.00/card per month fee after a one-time $50 account setup fee.  Additional fees may apply for optional services, late payments, and/or credit risk.
3 Listed discounts are current as of May 1, 2023; discounts are subject to change.
4 Estimated average annual savings-based off $.25 discount offer at TA locations only for 10 transactions per month, 100 gallons per transaction.