COMDATA® FLEETADVANCE
Smarter fuel decisions can mean significant savings for your fleet.
BUILD INSIGHTS, OPTIMIZE YOUR SPEND
Data and analytics for any size fleet
Efficiency at their fingertips
FleetAdvance is an analytics tool that gives you unique insights into where your drivers or vehicles stop and how much they spend on fuel — and how much they could be saving with better decisions.** Our sophisticated analytics allow you to see transactions and alerts as they happen and create report cards for assessing and guiding better driver behavior.
Reduced fuel spend
Real-time transaction insight
Trip planning
Quantifiable analysis
Monitor driver behavior
Score driver transactions
Quickly export driver scorecards 
**FleetAdvance uses publicly posted retail prices for all TA and Petro Stopping Center locations and does not reflect confidential contractual pricing arrangements which may exist between you and TA/Petro.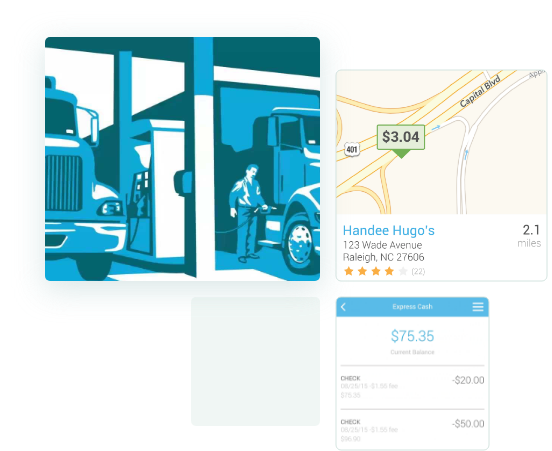 ADDITIONAL PRODUCTS & SOLUTIONS
Save time, capital and human resources with other innovative products and services.
One-Time Cash
Send electronic funds to drivers, vendors, or any other authorized recipient, on-the-go with products such as OnRoad, Comchek®, and more.
CAT Scale
Reduce weigh time and wait time at CAT Scale locations by using the CAT Scale App.
Recurring Cash
Set up recurring fund deposits into drivers' accounts for regular cash-on-hand needs — without the risk of carrying cash with tools like Comdata® iConnectData.
Comchek®
Send money to those on the road. Available in traditional paper check format, as well as mobile and digital delivery.
Driver Settlement
Deposit electronic funds to reimburse drivers for tools, supplies, lodging, and other job-related expenses incurred on the road with tools like Comdata iConnectData, Comchek®, and the DRIVEN FOR COMDATA app.
Mobile Fueling
Connect with trusted mobile fueling vendors in your area to meet your refueling needs.
Driver Payroll
Decrease payroll time with easy automated driver paycheck deposits that keep you in control.